The world needs something to get excited about, and we think a post-COVID-19 ski trip with friends is just the ticket. So, from boozy bars for shots and tabletop dancing to chilled out taverns for a glass of mulled wine, we've put together a list of our top ten ski resorts that are home to some of the best après ski in Europe.
Planning a ski trip? Save hours of online research, form filling and payment headaches and chat to packed. Our experts will send you easy-to-share recommendations personalised to your needs via WhatsApp, Messenger or email. Our planners see everything and they know where the best accommodation is across the alps, especially for big groups where a little more knowledge is required. When you're ready to book, everyone pays separately.
---
---

The essentials:
Altitude (resort): 1,304m
Altitude (max): 2,811m
Skiing: 305km
Located in the Tyrolean Alps, in Austria, St Anton is legendary when it comes to snow sports. It's the gateway to the huge Arlberg ski region that's ideal for experienced skiers after a bit of challenge. When you're not testing your skills on over 300km of marked ski runs, you'll be looking for somewhere to let loose – and there's plenty to tempt you in St Anton.
On-piste
If you picture yourselves unclipping your skis and heading straight to the nearest bar, you're in luck. St Anton is home to two famous on-piste après venues, the Mooserwirt and the Krazy Kanguruh, that serve up refreshing beer and cheesy pop tunes backed up admirably by Underground on the Piste with its amazing happy hour - think free schnapps with every drink.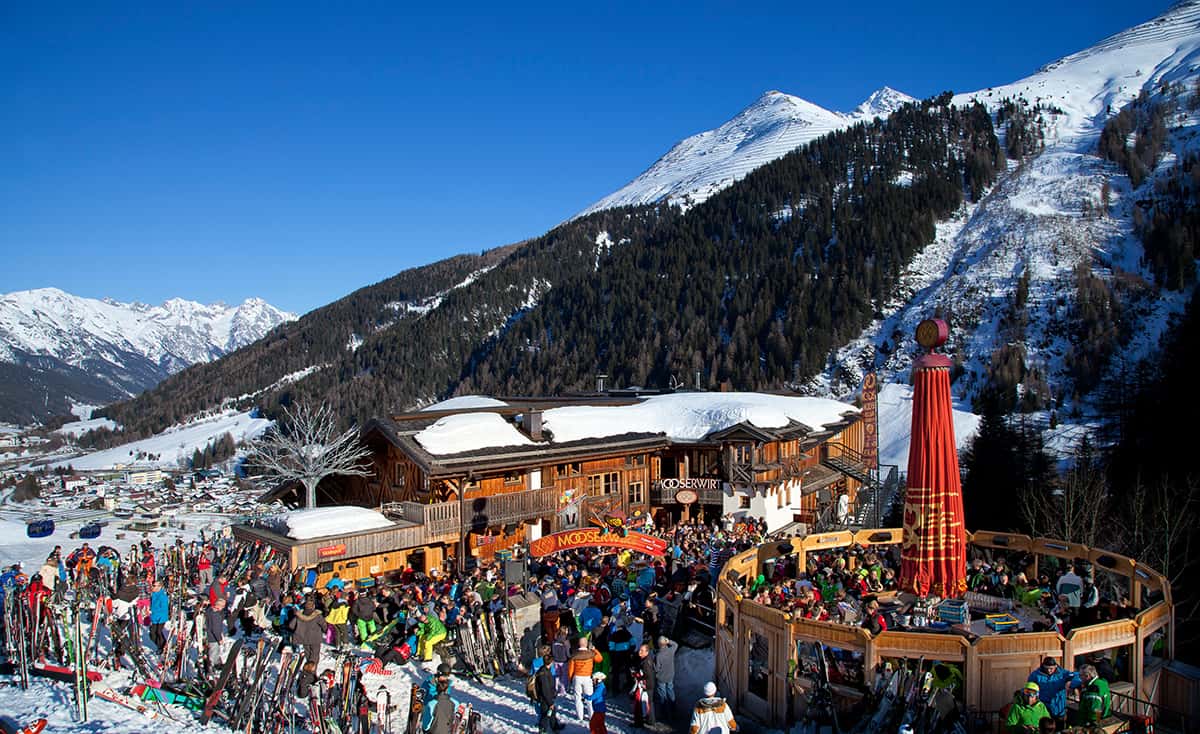 In town
For a change of pace, head into town for après ski that lasts until the early hours. Start off with a few beers and good beats at Base Camp before heading to The Piccadilly Bar for some live music after 9pm. Staying out late? No all-nighter is complete without ending up in Postkeller next door for shots and dancing.
Events
Consider booking at the beginning of the season for St Anton's huge opening party. Music lovers shouldn't miss the RTL-Après Ski Party at the Mooserwirt in December that draws world-class acts, while New Orleans Meets Snow is an amazing jazz festival in April.
Chat to a packed ski planner via WhatsApp (02039000223) or Messenger (@all.packed) and get a loose one in St Anton in the diary. Flights, transfers, accommodation and all your extras handled, and everyone pays separately.
---
---

The essentials:
Altitude (resort): 1,850m
Altitude (max): 3,488m
Skiing: 300km
One of the most popular – and most glamorous - resorts in Europe for British skiers has to be France's Val d'Isère in the Espace Killy region. Its ski season runs longer than most, plus you'll find runs for all levels and abilities. And when it comes to après, Val d'Isère can be pricey, but there's something for everyone.
On-piste
If you're after a lively après ski experience, you can't pass up a chance to pop into the original Folie Douce. The bar is located right on the mountain and it's infamous for its parties that typically end up with punters dancing in ski boots on the tables. Outdoor Cocorico is also a great shout for live music and tasty pizzas to soak up your pints.
In town
You'll find a mix of chic cocktail bars and late-night music venues, more often than not with sets by top European DJs. Head to popular Le Petit Danois to make the most of its drinks deals or get your sports fix at the more relaxed Moris Pub. Nightclub Dick's Tea Bar has been around since 1979 and is undoubtedly the place to be after dark.
Chat to a packed via WhatsApp (02039000223) or Messenger (@all.packed) and get some options together for your trip to Val D.
---
---

The essentials:
Altitude (resort): 1,750m
Altitude (max): 2,952m
Skiing: 600km
Nestled in the heart of the immense Trois Vallées ski region, Méribel lays claim to being one of the prettiest resorts in Europe thanks to charming chalets that line the mountainside. The après ski here isn't quite as diverse as our first two picks but there are still some worthy contenders.
On-piste
Ski right into Rond Point, Méribel's best on-piste venue, that has a huge sun terrace and daily parties. Dance to the latest tunes or settle down with your favourite drink in the afternoon sun. Folie Douce has a big presence by the mid-station of La Saulire, too.
In town
In the town itself, you'll find a handful of venues with relaxed or rowdy vibes. Check out Doron Le Pub next to the town's tourist office or stop off at friendly Jack's Bar for decently priced homemade pizza and live music from 4pm onwards. After something more sophisticated? You can't beat L'Abreuvoir for a crisp glass of wine.

The essentials:
Altitude (resort): 2,300m
Altitude (max): 3,220m
Skiing: 600km

Often overshadowed by neighbouring Méribel, Val Thorens has been making waves in recent years for its pretty impressive après ski scene that's the highest altitude in the region. From beach bars to massive nightclubs, here's our top picks.
On-piste
Val Thoren's own Folie Douce is smaller than the original at Val d'Isère, but no less special thanks to panoramic views and DJs spinning tracks from multiple music genres. It's found near the bottom of the slopes, so you'll only have to ski a short way with your beer goggles on. 360 Bar is also a good shout – think beach bar vibes and a regular line-up of globally renowned musicians.
In town
Off the slopes, start your evening off at rowdy Snesko for cheesy tunes or Frog & Roastbeef for a standard pub experience. A good night in Val Thorens should always end in Malaysia – it's the biggest nightclub in the region and has a huge dancefloor.
Events
360 hosts various events throughout the year, from Dagvindler Festival in March to the bar's insane annual JBL Snow Party.
Considering Val Thorens? Receive personalised recommendations on the go via WhatsApp (02039000223) or Messenger (@all.packed).
---
"Excellent service and highly recommend" Joseph Leeming, via Feefo
---
5. Les Deux Alpes, France

The essentials:
Altitude (resort): 1,300m
Altitude (max): 3,600m
Skiing: 225km
Les Deux Alpes in France's Grand Rousses mountains typically attracts a younger crowd thanks in part to its seemingly endless après ski options. There are more bars here than in Tignes and Val d'Isère combined!
On-piste
Pano Bar is the place to go for a drink and a dance on the slopes. The venue's huge and the party starts at 3pm every afternoon with an eclectic mix of DJs, dancers and live musicians (including a resident saxophonist).
In town
Where to start! You'll find over 40 different bars and clubs in Les Deux Alpes, from long-running British-owned Smithy's to fun La Grotte du Yeti. For a cosy boozer with mulled wine and craft beer on its menu, check out Polar Bear.
Receive ski trip recommendations personalised to your group via WhatsApp (02039000223) or Messenger (@all.packed)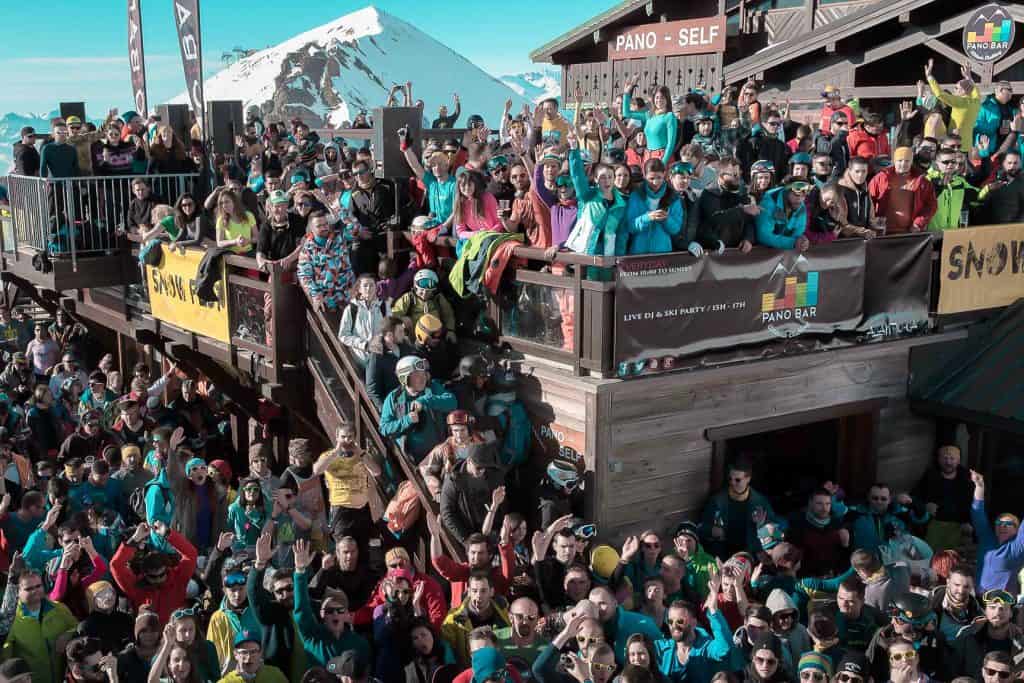 The essentials:
Altitude (resort): 1,860m
Altitude (max): 3,330m
Skiing: 249km
Also part of the Grande Rousses mountain range, Alpe d'Huez is a great all-rounder with its mix of gentle and tough ski runs. Those on a tighter budget will be glad to know that its buzzing après scene tends to be on the cheaper end of the scale.
On-piste
Alpe d'Huez is also home to a branch of Folie Douce that boasts a huge outdoor terrace and a great atmosphere for early afternoon après. Bonus: it's only a short ski down an easy blue run back into the town.
In town
Off-piste there are countless bars to choose from for your après ski fix. Sphere Bar (owned by the same group as Val d'Isère's Dick's Tea Bar) always has the latest sports matches on its screen, while Smithy's is known for its cheap jugs of booze and live music. Fancy dancing into the small hours? Head downstairs to Igloo Bar that doesn't close its doors until sunrise.
Events
Since March 2019, Alpe d'Huez has been the location of the epic Belgian-born Tomorrowland Winter music festival. If you like a good laugh, check out the resort's International Comedy Film Festival in January.
Keen to get everyone under one roof in a classic French chalet? Look no further.

The essentials:
Altitude (resort): 1,035m
Altitude (max): 3,842m
Skiing: 500km
Chamonix (just an hour from Geneva) is a hotspot for seasoned skiers, plus it boasts an unrivalled position at the base of Mont Blanc. The town itself is huge and home to some of the best après ski in Europe and its proximity to Geneva makes it an ideal choice for a cheeky weekender.
On-piste
Due to the town's sheer size and endless nightlife, the pistes are pretty sparse when it comes to après ski. Thankfully, you'll find yet another Folie Douce (part of a hotel) at the bottom of the slopes, perfect for a pitstop on your way back to the resort.
In-town
If you're after a big night out, head to Chambre Neuf inside the Hotel Gustavia for live rock music and a packed dancefloor. More relaxed groups might prefer classier Le Social Club on Rue de Moulin that serves up cocktails and cool sets from resident and guest DJs. Rum your tipple of choice? Definitely hunt down Barberousse, a pirate themed bar with over 30 different varieties.
Find out more about a cheeky ski-weekend in Chamonix, or chat to packed straight away via WhatsApp (02039000223) or Messenger (@all.packed) for recommendations personalised to your group.
8.     Mayrhofen, Austria

The essentials:
Altitude (resort): 633m
Altitude (max): 3,250m
Skiing: 515km
If you're more interested in the après than the skiing (although that's great, too) you've come to the right place with Mayrhofen. It's one of the liveliest resorts in the Alps, with dozens of bars located on its slopes.
---
"Simple, fast and super helpful ' Trusted packed customer, via Feefo
---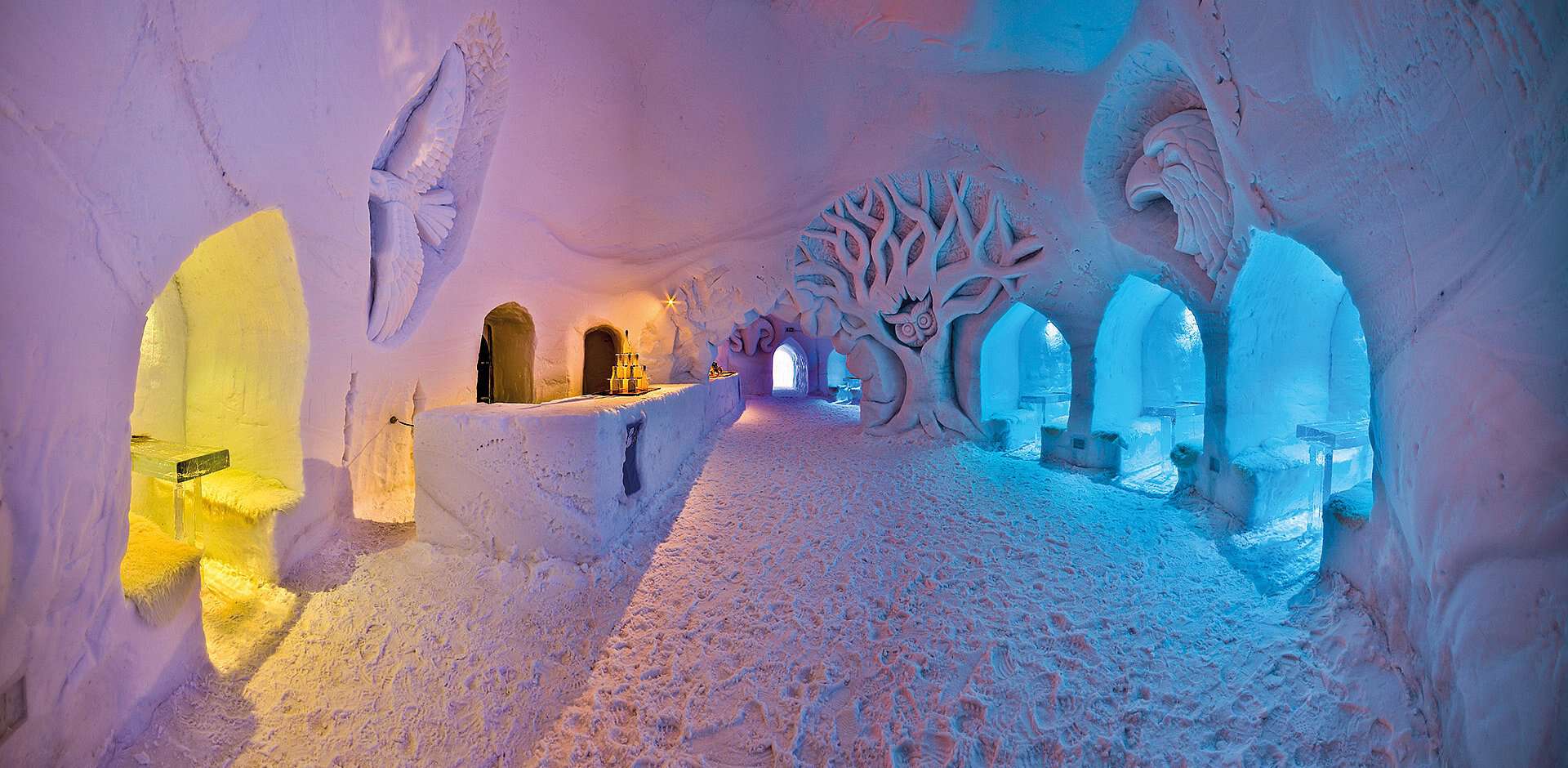 On-piste
You'll be spoilt for choice by Mayrhofen's on-piste bars. Start your afternoon off by heading to the top of the Penken Gondola and into Elchbar for a bite to eat and drinks with stunning mountain views. At the bottom of the gondola is where you'll find Ice Bar, Mayrhofen's most popular on-piste drinking hole that blasts out guilty pleasure Europop tunes all evening long.
In town
Down in Mayrhofen itself, there's over 30 different après ski venues to try out. The Scotland Yard Pub is ideal for a few pints and a game of darts, while Brück'n Stadl is a more authentically Austrian venue with some great in-house DJs. For something unique, try out The White Lounge, a huge igloo bar with candlelit outdoor seating and great party nights.
Events
If you're in Mayrhofen at the end of the winter season, don't miss Snowbombing music festival that's made up of street parties, forest raves and big performances from major artists.
Find the right ski trip for you. packed can make it happen without you lifting a finger. Start planning today over WhatsApp (02039000223) or Messenger (@all.packed).
9. Ischgl, Austria

The essentials:
Altitude (resort): 1,377m
Altitude (max): 2,872m
Skiing: 340km
Ischgl may be a bit pricier than Mayrhofen, but its après ski scene is hard to beat. Often described as the 'Ibiza of the Alps', it offers up everything from cosy champagne bars to wild clubs where the music never stops.
On-piste
Warm up after a morning on the slopes at Schatzi, a chalet bar that's part of the Elizabeth Hotel at the exit of the main run. It's best known for its friendly atmosphere and dancing girls dressed in dirndls.
In town
You can't visit Ischgl without going into Trofana Alm. Found in the heart of the town inside a big two storey barn, it's famed for its great service and cheesy Austrian and German music. Busy and bustling boozer Kuhstall is also a worthy contender for late night après, while The Golden Eagle pub is a favourite of Brits.
Events
Ischgl's Top of the Mountain festival at the beginning and end of the season is legendary, with past performers including The Killers, Rihanna and Elton John.
10.  Pas de la Casa, Andorra

The essentials:
Altitude (resort): 2,080m
Altitude (max): 2,640m
Skiing: 210km
Our only pick that's not in the Alps is Pas de la Casa in Andorra. It's part of the extensive Grandvalira ski region in the Pyrenees and is a great option for those after an affordable, no-frills ski break. The best bit? Pas de la Casa's après is rowdy and very reasonably priced, whether you want cocktails or some ice-cold beers.
On-piste
You'll spot the space-age exteriors of Coll Blanc at the top of the TS26 lift from a mile off. It's more of a laid-back lunch venue in the early afternoon, but DJs start spinning tracks from 4pm.
In town
Whether you're after live music to dance to or you want to catch the latest football match, Paddy's Bar always has something going on. For a taste of home, duck into Underground Bar & Grill (its exterior looks like a London tube station) for pints and tasty pub-style grub. Bilbord nightclub is one of the best off-piste party venues in Pas de la Casa that's open from 11pm until late.
Events
The annual Hibernation Festival in March is a must for electronic music fans.
Discover all there is to know about skiing in Andorra here. Or drop us a message with your dates & group size and we'll find you the best option available. Via WhatsApp (02039000223) or Messenger (@all.packed).
---
---
Ski trips handled
Can't decide among the group? Set up a trip in the packed app and get your friends to vote on the resort you visit this year. You can also get them to vote on the dates they're available and whether they're keen for a chalet, an apartment or a hotel. Then book you and your mates onto a ski trip of a lifetime with help from our experts. From accommodation to après ski, we've got you covered.
---
"Just really helpful. Genuinely seem like they want cater to what you want and give balanced opinions. Love the promptness and ease at which they respond and are contactable." Lokesh, via Feefo
---